Wood fences add value and classic charm to your property. Like all natural materials, however, wood doesn't maintain its new appearance forever, and nobody enjoys looking at a dirty, gray-colored fence. Fortunately, the team at Myers Fencing has some simple tips for cleaning your fence and keeping it that way.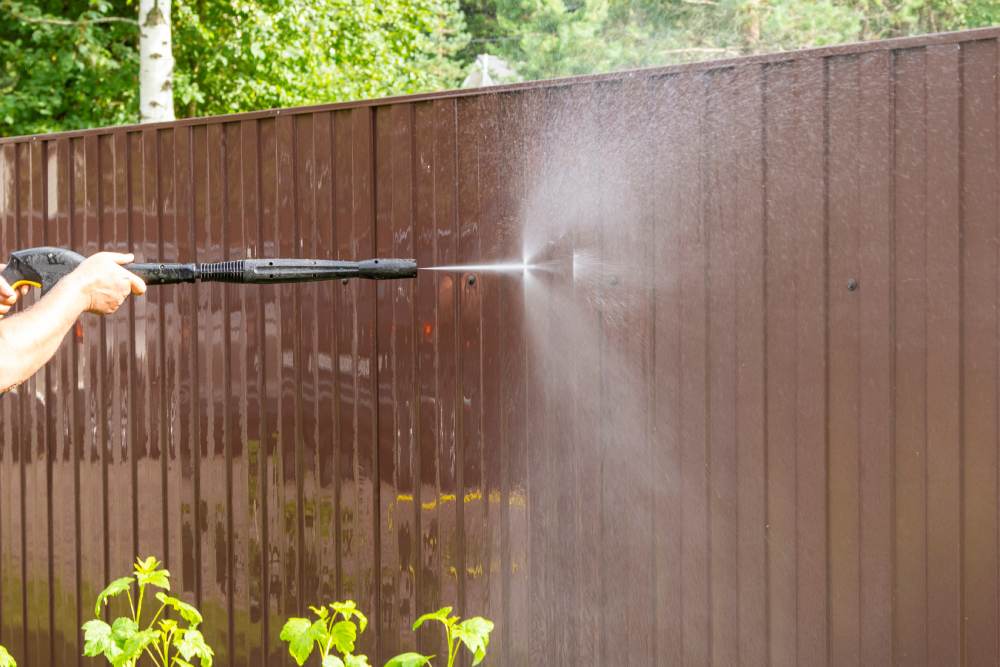 Wood Fencing
The first step to returning your fence to its original state is determining what is causing it to look dingy. Believe it or not, several culprits can be staining your wood fence.
Dirt: The most apparent cause is dirt. Dirt can accumulate over the years and leave a film of grime on your fence.
Mold & Mildew: Since wood is a natural material, it's premium real estate for mold and mildew growth. Staining caused by mold and mildew is widespread during wet or rainy seasons.
Algae: Algae can be a problem when your fence is under the shade of trees or other structures for most of the day.
Water: Yes, water can cause stains. How? If your water has a high mineral or iron content, water from your sprinkler can cause staining if the water frequently hits your fence.
The Cure
There are several ways to combat a stained wood fence, and we'll list them for you here from least aggressive to most aggressive.
Your first option is your garden hose. This is the most gentle and eco-friendly way to tackle dirt on your fence, but it's not the most effective option for getting stuck on mildew or algae. When using a hose, keep it at least six inches above the ground to avoid splashing up more dirt onto the fence.
The next tool in your arsenal is green cleaners. These are well worth the price, especially if you frequently have pets or kids in your yard. Start by giving your fence a good spray with your hose to open the wood pores, then work in small sections with the cleaner and a scrub brush. You don't want the cleaner to dry on your fence as this can cause more damage.
When regular water and eco-conscious cleaners aren't enough, it's time for the heavy hitter: bleach. Bleach is the tool of choice as it removes mold, mildew, water, and rust stains. Your fence will be restored to its original luster, but bleach can damage your yard and any surrounding shrubbery or landscaping, so make sure to protect your lawn with tarps and yourself with gloves and safety goggles. Dilute one quart of bleach in one gallon of water and, just like with other cleaners, spray your fence with water first. You also want to avoid allowing bleach to sit on the fence for too long so it doesn't discolor the wood.
If bleach doesn't cut it or you'd rather not use such a harsh chemical, you can bust out the pressure washer, but don't confuse this with a power washer, as the latter uses heat. You can only use power washers on surfaces that aren't affected by extreme heat, and wood is not one of them. You must use a pressure washer properly to avoid damaging your fence. You want to keep the psi between 1,500 and 2,000 and use a 25-degree spray tip that is gentler on your fence. Always test a small area first to ensure the washer doesn't strip away too much or further discolor the wood.
Once your wood fence has its original beauty back, maintain it with a coat of sealant, stain, or paint. However, wait at least two or three days after cleaning your fence to apply a layer of stain or paint.
Contact Us
Contact us today if you have questions about maintaining your wood fence. With over 20 years of experience in the fencing industry, you can rely on us for accurate information and project management. Stop by and see us at 100 Moore Dr, Nicholasville, KY 40356, or call us at (859) 887-3548. We also proudly serve the areas of Lexington, Nicholasville, Versailles, Georgetown, Louisville, and Richmond, KY.