For all Your Fencing Needs!
At Myers Fencing, Inc., we're dedicated to making your fencing goals a reality. With over 25 years of experience in fencing design, sales, and installation, we'll make sure you get the best fence possible. We're dedicated to helping you create a fence that will fit your goals and last for years to come with a timeline that meets your needs. Our staff is well-trained, knowledgeable, courteous, and eager to assist you, whether your goal is to add privacy, safety, or curb appeal to your property for a temporary event or years to come. Myers Fencing, Inc. offers residential, commercial, and temporary fencing for any project.
Whether you're enclosing your backyard, pool, or field, Myers Fencing, Inc. has a residential fencing solution for you. We offer fences for privacy, security, and for industry like livestock, including wood, ornamental, chain link, vinyl, pool, and farm board fencing. We are also happy to help you design and install customized decorative fencing, such as shadowbox fences, king fences, and louvered fences. Not sure what you need? We're happy to help you pick the right product and design for your residential fencing project.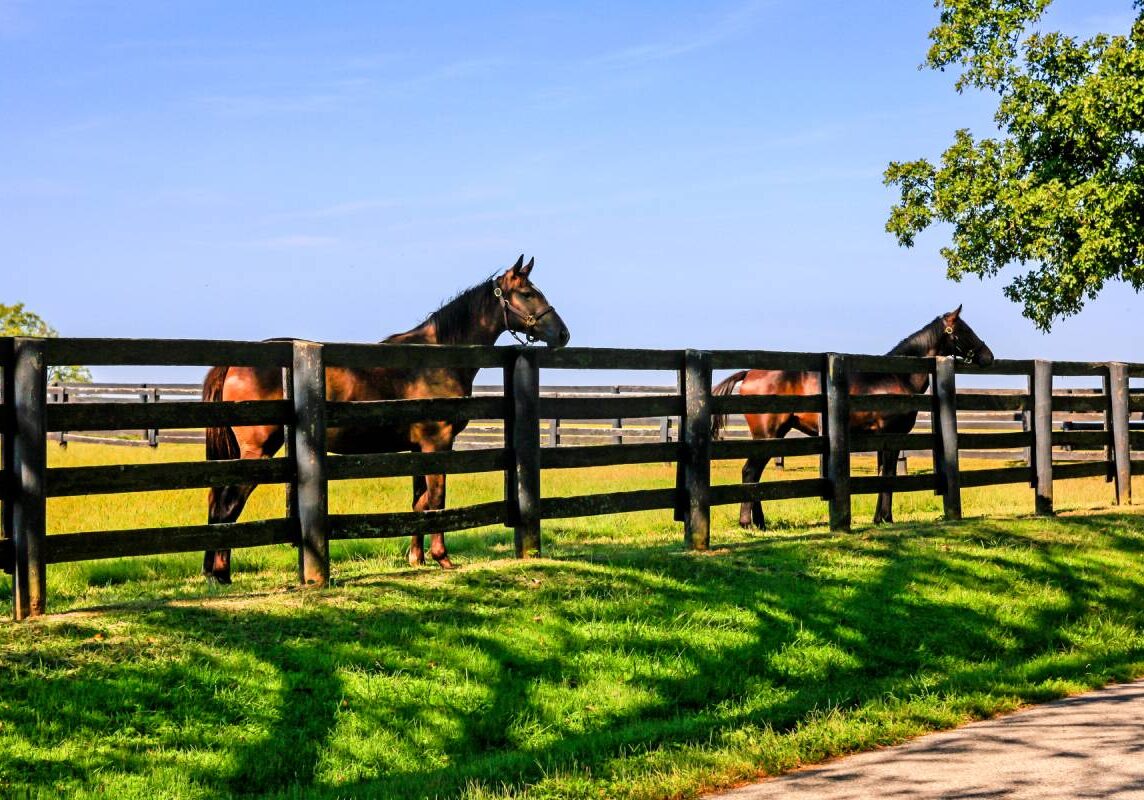 For commercial clients, we offer a wide variety of fencing options, whether you want privacy, security, or both on your property. Choose from chain link, ornamental, Trex Composite, and Simtek fences. We also provide commercial handrail installation that takes utmost care in regards to meeting or exceeding code standards.
Temporary fencing is important for the privacy and security of worksites, as well as for crowd control for events. For worksites and other temporary fencing projects, we offer both temporary fence panels and sturdier driven temporary fences. Both types are available with or without privacy screens and windscreens.
We offer a range of other products, as well, including ball fields, netting, backstops, and dumpster enclosures.
Located In Beautiful Versailles, KY
We are located in the heart of horse country in Versailles, KY, conveniently near both Lexington and Frankfort. Tour world-class horse farms, such as Three Chimneys Farm and WinStar Farm. We are just 30 minutes from the Kentucky Horse Park in Lexington, KY. Horse country is also bourbon country, so stop in for a tour and tasting at Woodford Reserve, one of the most stunning distilleries on Kentucky's Bourbon Trail. If sports are more your style, catch a University of Kentucky basketball game at Rupp Arena in Lexington, KY, or a University of Louisville game at the KFC YUM! Center in Louisville, KY; both venues are frequent stops for major concert tours, so you might even get the chance to see your favorite artist!
Robert S. - Used Meyers to put up a new fence. We had a pool installed last year. Between concrete companies, pool supplies, electricians, and lord know who else we've had a lot of crews coming and going. The crew Meyers sent out here was one of the best. They were very professional and polite. They answered ever question we had and took care of everything promptly. I would recommend them to anyone. They were great.
William D. - August 2020...Just concluded having a custom fence built for our backyard providing both privacy and beauty. Throughout the project...Jesse, and the entire Myers construction crew led by James, were professional, patient and kindly accommodated design feature changes during construction to achieve the look that we desired. We are very pleased with the result and highly recommend Myers Fence for any residential fence projects.
Robert W. - Timely, Professional and Personable Fence Service! A family member recommended Myers Fencing Co. to us. We talked to other people in this field and decided to go with them. Great service! Excellent Service! We were referred to Myers Fencing Co. by a friend who was very satisfied with them in Lexington. They left our yard looking 500% better than when they arrived. We highly recommend this company.
We would love to help you with your fencing project. Contact Myers Fencing for everything from project planning to fence installation. We are locally owned and operated with locations in Versailles, KY and Nicholasville, KY. We are proud to serve the surrounding area with any fencing needs, including Lexington, Georgetown, Richmond, and Louisville. Call us today at (859) 887-3548 or request a free quote online with no obligation. We're open Monday - Friday, 8:00 AM - 4:00 PM.