For all Your Fencing Needs!
For over 25 years, Myers Fencing, Inc. has installed some of the finest fencing solutions for customers in the Bluegrass state. With temporary security options to high-end products like TrexⓇ and SimTekⓇ Composite Fencing, our professional staff of fencing experts will take your project from the custom design stage through installation and fencing repair. Choose from a variety of our residential and commercial fencing options, such as: fine wood fencing, aluminum fencing, vinyl fencing, chain link fencing, hand-rail installations, and pool fencing. Our team's knowledge and expertise will work with you to protect your home or business in Lexington, Kentucky.
At Myers Fencing, Inc, we can help solve any security concerns for residents, commercial businesses, industry, and more. Located only 10 miles from Lexington and serving the area for decades, Myers Fencing is one of the premier fencing contractors in the state. The city of Lexington contains multitudes—from the fine horse farms built into the rolling hills of the bluegrass to a lively and bustling downtown center. See all that Lexington has to offer by visiting our equine attractions like the Kentucky Horse Park and the horse racing epicenter at Keeneland. Visit our historic buildings like the Mary Todd Lincoln House, or get out in nature by seeing the sights at the Arboretum or the Raven Run Nature Sanctuary. And don't forget to tour a distillery or two, like Bluegrass Distillers or the James E. Pepper Distillery, home of some of the state's signature award-winning spirits.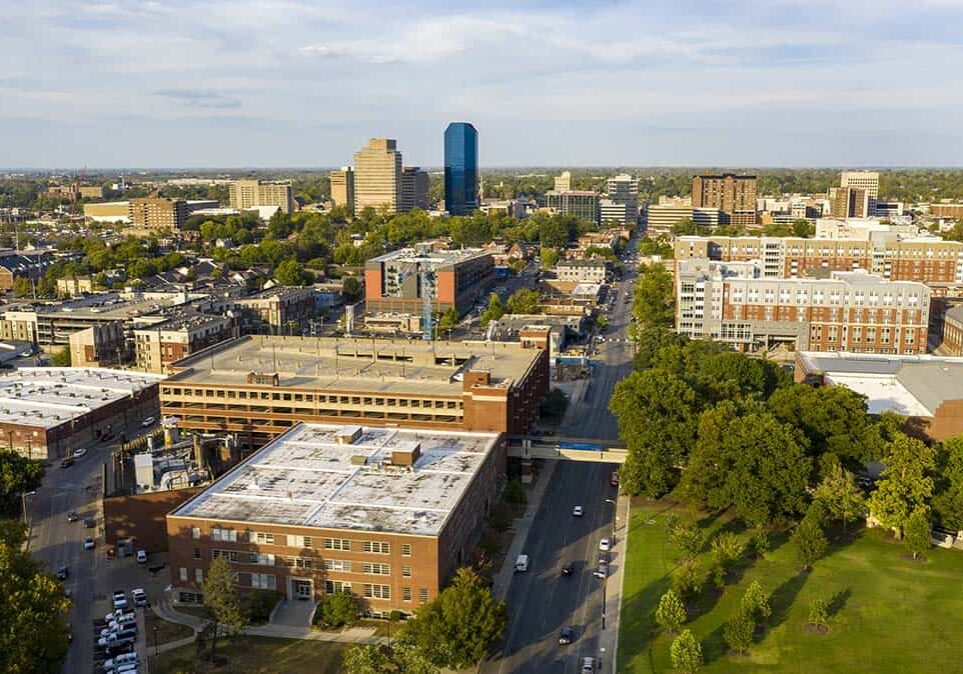 Let us help you with your fencing needs! From repairs to design and installation, we can do it all. With hours from 8 AM to 4 PM Monday through Friday, feel free to call Myers Fencing, Inc at (859) 887-3548 or request a free, no-obligation quote online. We are locally owned and operated in Nicholasville, KY, and we are proud to serve greater Lexington, Versailles, Georgetown, Richmond, and Louisville, Kentucky and provide the Bluegrass with quality fencing.
Jason S. - We got quotes from several fence companies to remove an existing fence and installing a new 6-foot privacy fence. Myer's Fencing was by far the best we dealt with during the entire process. The project leader, Jesse, showed up on time to give an estimate and discussed with us our wishes and even provided suggestions and feedback on things we didn't even think about. The rest of the companies seemed in a hurry to measure the yard and get out as quickly as possible. The estimate was delivered quickly after our initial meeting and was comparable to our other estimates. Follow-up questions were answered promptly. Jesse was great at keeping us updated on getting on the install schedule and what to expect. The install crew lead by Vegas was exceptional. They showed up on time, explained what they planned to accomplish each day and how long they planned to be working. Jesse showed up the first day to make sure we were all set and everyone was on the same page. Vegas asked questions along the way when needed and was happy to address questions and explain things when I stepped out to see how things were going. Vegas and the rest of his crew were easy to talk to and it showed that they took great pride in the work they were doing. Even with several rain delays they were able to take down the old fence and install my new fence over a few days. They even came back an additional day because they weren't happy with the quality of some of the boards and didn't want to use them which speaks to the quality of work. We are extremely happy with the way the fence came out and I would highly recommend Myer's Fencing for your fencing needs. They were a pleasure to work with and we would definitely use them again.
Robert S. - Used Meyers to put up a new fence. We had a pool installed last year. Between concrete companies, pool supplies, electricians, and lord know who else we've had a lot of crews coming and going. The crew Meyers sent out her was one of the best. They were very professional and polite. They answered ever question we had and took care of everything promptly. I would recommend them to anyone. They were great.
Doug B. - Great experience with Myers fencing. They did an excellent job on our fence and the gates need for access to our back yard. Highly recommend!
William D. - August 2020...Just concluded having a custom fence built for our backyard providing both privacy and beauty. Throughout the project...Jesse, and the entire Myers construction crew led by James, were professional, patient and kindly accommodated design feature changes during construction to achieve the look that we desired. We are very pleased with the result and highly recommend Myers Fence for any residential fence projects.