For decades, vinyl fences have been a popular choice for enclosing backyards. Not only are they stylish, but vinyl fences are a cost-effective solution for adding a visible perimeter around your space. With a variety of design options, horizontal vinyl fences are one of the most versatile fencing styles. At Myers Fencing, we have been installing and maintaining vinyl fences across Central Kentucky for over 20 years. Our team works every day to keep our customers satisfied with exceptional customer service, attention to detail, and years of experience. Whether you already have a fence in need of repairs or are looking to design a brand new one, our team is equipped to help you realize your dreams every step of the way!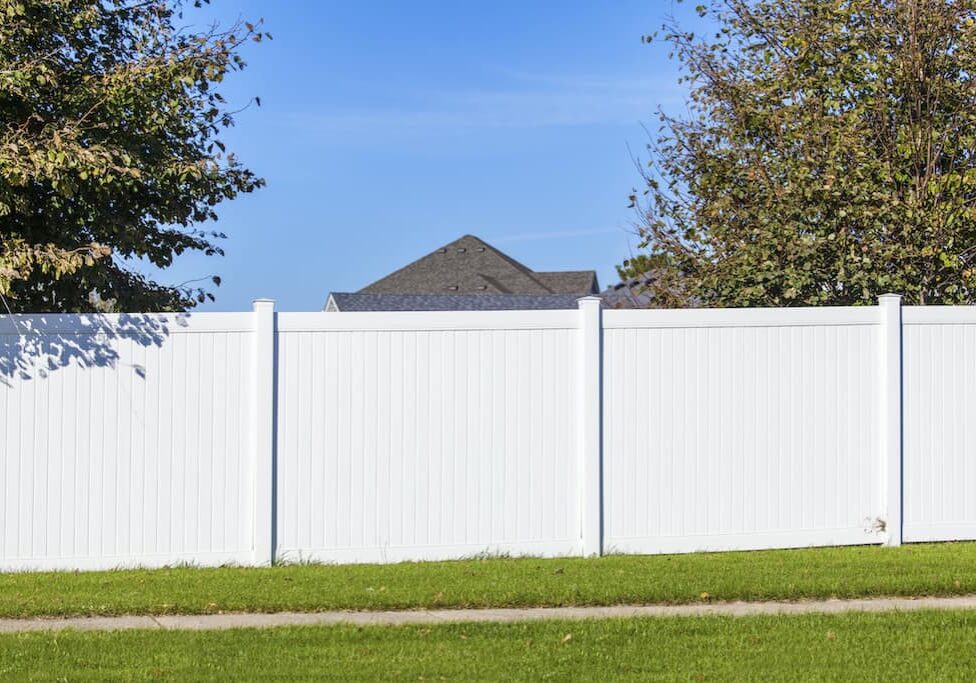 The Benefits of Adding a Vinyl Fence to Your Property
Vinyl fences are a popular choice as they look great with any style home and can be customized to fit your needs. These fences work beautifully for residential applications and can serve as anything from a privacy fence to a pool fence or simply a fence designed to clearly mark your property's boundary.
Adding a vinyl fence can bring several benefits to your property, including:
Style: vinyl fencing is an exceptional option when it comes to intersecting cost, durability, and visual appeal. They are easy to customize with unique shapes and sizes to add a little something extra to your yard. Choose from slat and fence post options including semi-privacy and full privacy as well as options for a closed picket top or lattice top. Show off your vibrant flowers and foliage with a white picket fence or make a statement with arched and scalloped tops. Our signature white vinyl fence contrasts beautifully with your lawn while also offering versatile design options. We can help your yard and landscape stand out with our wonderful color options.
Durability: Vinyl fencing is one of the more durable options for enclosing your yard thanks to a robust construction that resists damage from moisture and stains. Vinyl fences are easy to clean, and if even you notice an unwanted spot on your beautiful white fence, you can simply wash it away with soap and water. Vinyl fencing is a solid choice for Central Kentucky where backyards are frequently soaked with heavy rainfall and even snowfall.
Safety & Privacy: If you have children or pets who like to spend time outside, a vinyl fence can be a great option for ensuring your backyard is a place where they can run free without the fear of them straying into the street or getting lost. If you live along a busy street or in a popular neighborhood, clearly defining your property with a gated fence can make you feel protected while giving you the freedom to spend time outdoors.
Curb Appeal: Vinyl fences can make your home stand out from the rest when it comes time to sell. Fencing adds value and curb appeal to homes because of the initial installation cost and the benefits they offer. If your home is the only home on the block with a fence, you will be sure to make a lasting impressing on potential buyers.
Outside of residential applications, heavy duty vinyl fences can also be a stellar choice for commercial properties. Vinyl fencing's minimal upkeep and durability makes it a great choice for dumpster enclosures and pool enclosures for public spaces like apartment complexes.
Thinking about adding a vinyl fence to your property? At Myers Fencing, we handle all steps of the fencing process. From design and professional installation to maintenance and repairs, we are your Central Kentucky source for all things related to fences. We handle both residential and commercial fencing applications and will also happily work on custom fence projects.
Want to learn more about our vinyl fence installation and options? Give us a call at (859) 887-3548 to get in contact with one of our expert fence designers, or get a free no-obligation quote from us today! We're excited to hear about your project! Myers Fencing is proud to be locally owned and operated out of Nicholasville, Kentucky. We have been servicing Central Kentucky for over 20 years including Lexington, Versailles, Georgetown, Louisville, and Richmond, KY.