Fencing Solutions near Richmond, KY
With over 20 years of being in business, you can confidently count on Myers Fencing to get the job done. We offer both commercial and residential fencing, as well as temporary chain link fencing and fencing panels to keep construction areas safe and secure. We have installed privacy fencing, pool fencing, dumpster enclosures, ballpark netting, wood fencing, vinyl fencing, composite fencing, chain link fencing, ornamental fencing, and farm board fencing to best serve the needs of the Richmond, KY community:
Our wood fencing naturally adds to the curb appeal to your home with its strong traditional look. They can be easily customizable with different woods and stains to best complement your home as it beautifully encloses your yard. Furthermore, the natural materials of wood fencing make it the most eco-friendly fencing on the market.
Vinyl fencing is more durable and easily maintained than wood fencing - it can even be washed with soap and water. Vinyl is flexible, making it able to withstand harsh weather, and it is difficult to damage and scratch. Doubled with its visual appeal, vinyl fencing is a good choice for residences as a privacy fence, garden fence, or pool fence.
At the intersection of wood and vinyl, we are also proud to offer Trex® Composite Fencing, an ecofriendly privacy fence solution. Trex® fencing is designed to last with stains weathering in different, deliberate colors for a fence that that requires no repainting and miniscule repair.
SimTek® Molded Composite Fencing System from CertainTeed® is another composite privacy fence option that will never crack, warp, or splinter. SimTek® fencing is molded with real stone or wood casts for a completely natural look without the constant maintenance. It works so well as a privacy fence that it even decreases sound pollution. It is easily installed to create peaceful yards even in the noisiest of high-traffic areas.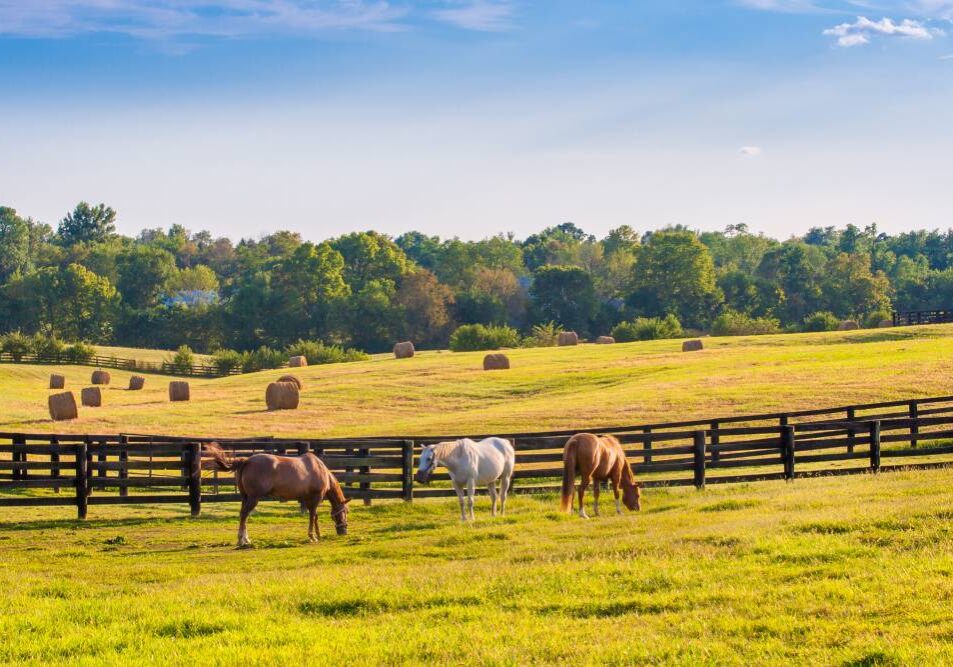 Chain link fences are cost-effective fencing options perfect for commercial projects. We have completed local chain link fencing projects at Amazon Storage, Georgetown Water, Churchill Downs, UPS, and Buffalo Trace Distillery. The viewability of chain link fences allows you to see people approaching, and its interlocked steel wire construction makes it easy to repair and less prone to wind damage. Its quick installation makes it an optimal choice for companies with tight timelines.
Proudly Serving the Beautiful Louisville, KY
Richmond, KY is nearly as old as the state itself-it was established in 1798, only six years after Kentucky achieved statehood. It is home to the second-largest Civil War battle in Kentucky, immortalized by the Battle of Richmond Visitors Center and Battlefield Park, as well as a working replica of Fort Boonesborough-Kentucky's second settlement established in 1775 when Daniel Boone first arrived at the Kentucky River. Richmond pays homage to its Bluegrass and Daniel Boone roots with Deer Run Stable, which offers horseback trail rides, bonfires, picnics, camping, riding lessons, and horse boarding for visitors and Richmond natives alike. Stop by Casa Fiesta Mexican Grill after a visit at Eastern Kentucky University or try your luck at "The Big Hoss" Burger Challenge at Jackson's Restaurant. Richmond is strongly steeped in Kentucky history, and we are proud to fence both the homes and horse farms of this community.
Caroline W. - Myers Fencing did an amazing job creating a beautiful custom fence for our property. We live on a corner lot and so wanted something that gave us privacy but also added curb appeal and both boxes were more than ticked. The team were very friendly and professional and were happy to make changes as they went along. We really appreciated their care and attention to detail. Would highly recommend!
William D. - Just concluded having a custom fence built for our backyard providing both privacy and beauty. Throughout the project...Jesse, and the entire Myers construction crew led by James, were professional, patient and kindly accommodated design feature changes during construction to achieve the look that we desired. We are very pleased with the result and highly recommend Myers Fence for any residential fence projects.
Doug B. - Great experience with Myers fencing. They did an excellent job on our fence and the gates need for access to our back yard. Highly recommend!
John H. - Very professional, efficient and knowledgeable. Both in residential, commercial and farm fencing and gating, highly recommend.
Fencing completes your property. It defines your property line, deters trespassers, and makes your property a safe space. We are committed to quality work and service as Richmond's fencing experts. Call or contact us today to inquire about your project. We look forward to working with you. We are located in Nicholasville, KY, and serve the greater Central Kentucky area, including Richmond, Lexington, Nicholasville, Versailles, Georgetown, and Louisville, KY, as well as the surrounding area.