Get the most out of your backyard or property with a fence from Myers Fencing. We are your local experts in custom fencing solutions and specialize in a variety of fencing types and modern fence design. We pride ourselves on a job well-done and quality materials. Our team loves both commercial and residential projects! Whether you have fencing ideas or don't know where to begin, we are your go-to resource for fencing repairs, fence planning, and fence construction. Get in touch with one of our designers today to start your project!
Our of our favorite projects is residential fencing. We offer several types of residential fencing options including wood, chain link, vinyl, farm board, pool enclosures, and trex fencing to suite any need you can throw its way.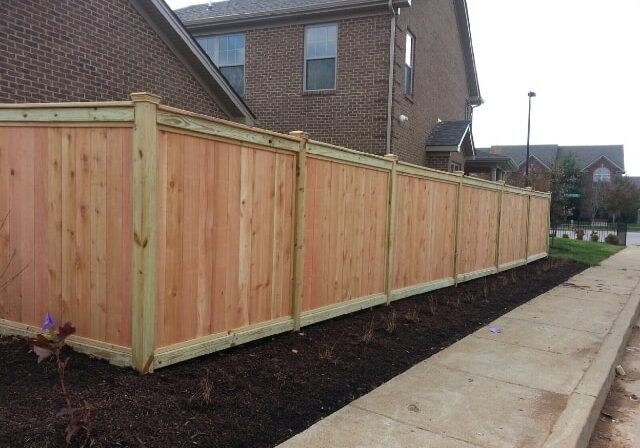 For lovers of the classics, wood fences are the way to go. Wood fences offer a more natural aesthetic and can be custom blended to match the exterior of your home. Whether a cabin nestled in the woods or home in the suburbs, wood fences are always a great choice.
In addition to the basics, we also offer specialty solutions including farm board fences adapted to keeping animals enclosed as well as pool enclosures and trex fencing. Across our fences, we offer additional customization to make them feel more personalized to you and your home, including privacy fences, shadow box fences, king fences, and louvered fences.
Why Does Your Home Need a Residential Fence?
Building a fence in your backyard, around your pool, or around any part of your property comes with a host of benefits. For years, we've been building residential fences across Nicholasville and Central Kentucky helping our customers make the most of their property. Residential fencing, no matter which type you decide to go with, can bring all kinds of benefits including:
Privacy: Protect your property from wandering eyes and create a space that is secure and comfortable without closing off your yard completely. Privacy fences are a solid option for homes that are geographically elevated to their neighbors or for large yards that feel open and exposed. If you spend a lot of time outdoors or have a pool (especially an elevated above ground pool), a residential fence (whether wood, aluminum, chain link, or vinyl) can help you get more enjoyment out of your pleasant outdoor space
Home Security: Privacy fences and residential fences are a reliable choice for increasing home security. A security fence and gate can both deter unwanted visitors and give you added peace of mind
Curb Appeal: Fences can increase the value of your home making it easier to resell in the future. Residential fences make your home look complete and make a lasting impression on visitors. A house with a fence—especially when surrounded by others without a fence—stand out compared to the others around it, which is great for resale value.
Establishing Boundaries: Keep your property line clearly defined with the help of a vinyl, wood, metal, or privacy fence. Residential fences can be a great way to mark your property boundary both for your reference and to ensure there is no doubt where you and your neighbor are responsible for upkeep
Child Safety: If you have children, a residential fence can give you peace of mind and keep your children safe when they spend time outdoors. This is an especially great option if you live in a neighborhood or along a busy street and want to give your child the freedom to explore outdoors. This also doubles as a reliable option for outdoor pets if you want a contained area for them to stretch and run around unleashed.
Myers Fencing of Central Kentucky specializes in a variety of fences and fencing types for commercial and residential applications. We are a locally owned and operated fence company, and for 20 years, we have been installing fences across the region including wood, aluminum, chain link, and vinyl fences. We pride ourselves in offering professional and friendly services with the expertise that only working with a local Kentucky business can offer. Whether you know exactly what you want for your residential property or need help to develop a custom solution, we are equipped to help you turn your plans into a reality.