Fencing your pool area is a necessity to ensure the safety and well-being of your guests, especially those with children and pets, but there are so many ways to secure your above ground pool area that the choice can be daunting. Let Myers Fencing help you, with a team of experts that will be with you through the whole process from design to installation to long-term maintenance. We can get your pool area BOCA-code compliant in no time, with finishes that will make you proud for a lifetime.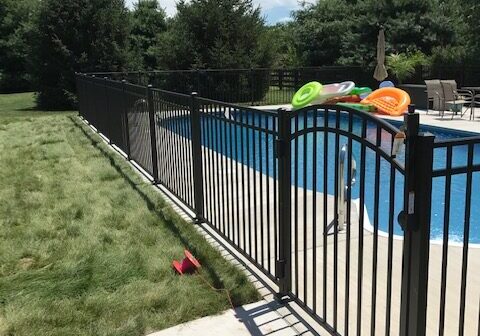 High-visibility fencing is great for advertising your pool while keeping your guests safe. Maintain a clear view of the surroundings and maintain security at the same time. If you have a beautiful pool area, show it off with ornamental or chain-link metal fencing.
Show Off Your View: Metal fencing options such as wrought iron, aluminum, and chain link, are designed in such a way that they allow high visibility into the enclosed area. This is great for areas that you want to advertise, such as a pool area. As a bonus, plants within the enclosure receive full sunlight, making a poolside tropical paradise possible no matter the location.
Keep Your Guests Safe: Keeping a fence around your pool is essential for the safety of your guests. For a pool safety fence, high-visibility fencing options are ideal for highlighting the potential hazard while keeping children and pets safe from the danger.
Resilient: High-visibility metal fencing is great in areas prone to wind damage, making it an excellent long-term fencing solution. The durability of metal can't be beat, and a variety of available coatings makes it low-maintenance.
Ornamental wrought iron and aluminum fencing has a classic, upscale look that shows off your property while maintaining a secure perimeter. Choose a fencing for your pool area that makes it look inviting, even when access has to be limited. With a wide range of patterns and finishes, we can help you find the perfect ornamental metal fencing for your pool safety fence.
Chain link fencing is so much more than just an affordable perimeter option. At Myers Fencing, we have more than 20 years of experience in crafting beautiful, custom chain link fence solutions. With varying heights, gauges, and color coatings, we can design the perfect chain link fence to suit your property.
Privacy fences are ideal pool fencing. Not only do they easily meet BOCA Pool Safety Code Standards, but they offer a range of high-end finishes to beautify your space. Here are just a few reasons privacy fences might be right for the pool on your property:
Tucked Away from Sight and Sound: Privacy fences are great for busy areas, because they keep your pool area hidden from view and insulated from sound for a serene guest experience.
Always a Beautiful View: Block out unsightly neighbors so your guests are transported from their day-to-day cares no matter what your pool faces. Let their view be one of our attractive privacy fences instead.
Secure: Never worry about unwanted guests. Tall privacy fences are difficult to scale and blocking your pool from view reduces temptation.
Wood is a classic, beautiful privacy fencing solution. With the largest range of stain and paint colors available, it's also the most customizable. Get exactly the style you want for the price you need for your pool fencing.
Vinyl is highly suited to privacy fencing for pools. The slick surface increases security, and the material is available in a wide range of colors to match any design.
Make your pool area as beautiful as it is secure with Trex Composite, a high-end privacy fence solution made with vertical slats of quality composite material. Unlike other outdoor materials, Trex Composite will never rot, splinter, warp, or crack, so your time doesn't get wasted on fence maintenance chores like staining and painting. Available in three stylish colors – Saddle, Winchester Grey, and Woodland Brown – there's a Trex Composite fence to suit every property.
SimTek® Molded Fencing Panels
With SimTek® Molded Fencing, the panels are made from incredibly durable polyethylene and reinforced with steel, so you never have to worry about the longevity of your fence. SimTek® is available in Ecostone rock-wall and Ashland wood shadow-box fencing styles and a variety of beautiful colors, and all accessories including posts, panels, caps, and gates are styled to match.
Ready to see what type of pool fencing is best for your property? Let Myers Fencing help! Call us today at (859) 887-3548 or request a free quote online with no obligation. We are locally owned and operated in Nicholasville, KY and are proud to serve Lexington, Versailles, Georgetown, Richmond, and Louisville with all your fencing needs, whether it be design, installation, or maintenance.