Smooth operation is crucial on a construction site, and fencing can play a large role into an optimized project and safety. When it comes to finding temporary fencing for construction projects, Myers Fencing is your local expert. For over 20 years, we have been serving Central Kentucky in fence construction, repairs, and maintenance across both residential and commercial applications. Whether you need temporary chain link fencing or fencing panels, we have your back.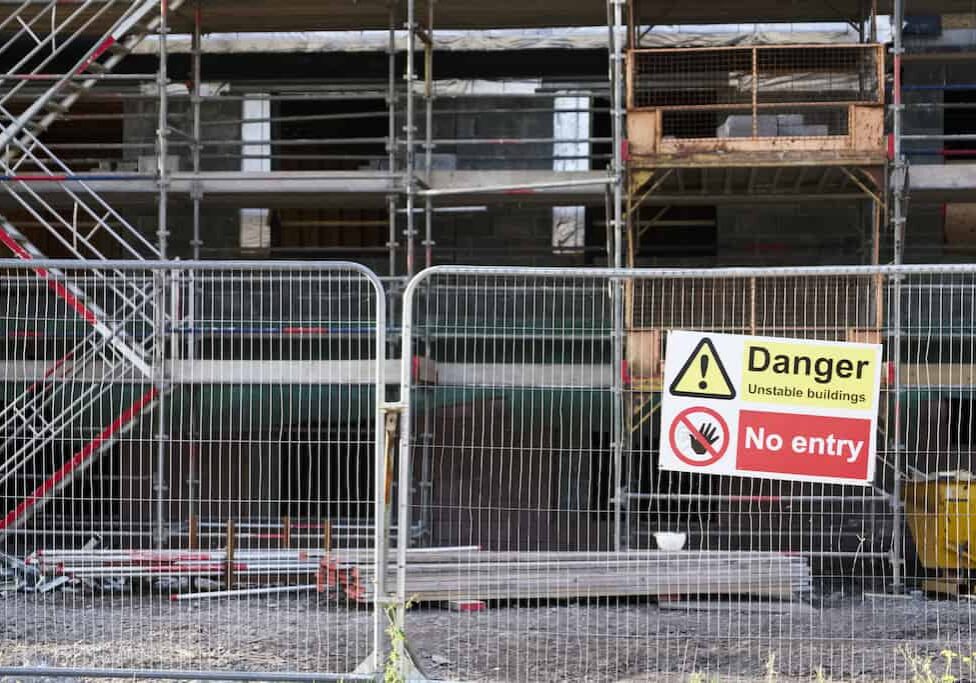 Do I Need Temporary Fencing for My Project?
You are going to be spending a while at your construction site, so sometimes a little extra care is necessary to set it up for the best working conditions. Temporary fencing can be a solid solution with options for both temporary fence panels and driven temporary fences, depending on your needs and how grounded the fence needs to be. Temporary commercial fencing can provide a host of benefits to your construction site, including:
Safety: Temporary fencing and panels not only mark off a particular space, but it sends a clear sign to uninformed passersby that they do not need to enter unprotected. This also doubles as good practice for keeping workers, pedestrians, and vehicles away from possibly dangerous conditions that can pose a safety hazard.
Organization: Construction projects can come in any size, and larger operations may benefit from the added organization temporary fencing can provide. If any area needs to be concealed or sectioned off either for the purpose of optimizing workflow or for enhancing worker safety, temporary fencing may be the solution for keeping the site running in an orderly fashion. Keeping your construction site secured by a temporary fence can also prevent unwanted distractions for a productive workday.
Security: Depending on the project, it may be necessary to secure your site's perimeter with additional fencing. Temporary fencing can work for keeping the site protected and private while also redirecting traffic around the area; This is crucial in densely populated areas like a restaurant in a busy downtown or a college campus full of in-and-out traffic both on-foot and in motor vehicles. Temporary security fencing can also help ensure your project remains appropriately concealed from the surrounding area.
Temporary Fencing and Commercial Fencing Across Central Kentucky
Improve the quality of time spent on or around your construction site with temporary fencing. At Myers Fencing, we offer specialized solutions and are always happy to take on custom projects. We feature both temporary fence panels and driven temporary fences depending on your project's needs.
We have the all-around, most versatile chain link solution designed for both commercial and residential applications. This type of temporary fence is stabilized but is not driven into the ground, so it can be moved around as needed. They are relatively simple and easy to set up and are great for short-term projects.
These temporary chain link or metal fences are better suited for long-term projects. They are set into the ground with concrete that adds more stability but can still be broken away when finished.
Looking for a temporary fence suited to your unique construction site? We also offer windscreens for additional protection against the elements and added security to keep your construction site concealed. Gates are another option that provide added convenience with easy access to and from the site without compromising on protection.
Need a Temporary Fence for Your Central Kentucky Property?
We are reliable fencing contractors who can help secure and protect the perimeter of your property. Myers Fencing has been serving commercial and residential customers across Central Kentucky for decades. We offer custom built solutions to helping construction companies prep their construction site for the work ahead. Have questions about how we can help build a custom solution for you? Give us a call at 859-887-3548 to get in touch with a designer today! Or fill out our form to receive a free, no-obligation quote.
Myers Fencing is proud to be locally owned and operated. We are based in Nicholasville, KY and are happy to serve across Central Kentucky including Lexington, Georgetown, Versailles, Louisville, and Richmond, Kentucky as well as the surrounding areas.