Durable and Attractive Aluminum Fence Styles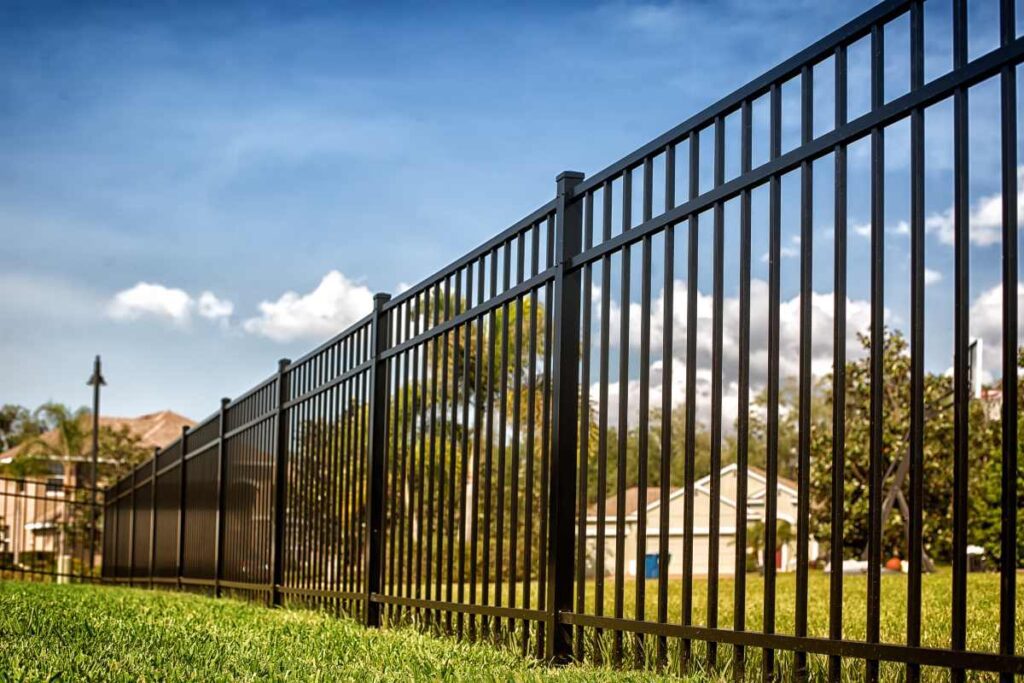 Aluminum fences are gaining popularity thanks to their durability, attractive price point, and range of styles. The fencing experts at Myers Fencing can help you design an aluminum fence to make your property more attractive and secure.
Choosing Fence Height & Aluminum Grade
These style options are the least exciting but vital to provide you with the modern aluminum fence you dream of. Aluminum fence rails are available in several heights, from 36" to 72". Any size is suitable for ornamental purposes; if you're trying to keep pets in or wildlife out, we suggest a fence that is 60" or 72" tall.
Aluminum fencing is available in residential and commercial grades. Many homeowners opt for commercial-grade fences because the aluminum is thicker and stronger. The pickets of commercial-grade aluminum fences are also larger at ¾" instead of the ⅝" pickets of residential aluminum.
Aluminum Fence Style Options
Aluminum fence rails offer some support for the pickets but are primarily an aesthetic feature. Increasing the number of rails gives your fence a more luxurious, ornamental appearance. You can choose from several styles, including:
Flat Top: This is the most popular style, covering all picket heads with a flat rail piece.
Exposed Finials: This style exposes the finial ends, allowing you to get creative with the component.
Combination: A combination of exposed finials or spears with a flat rail above them.
Finials & Post Caps
If you want exposed finials, you can choose from three styles:
Spears
Triads
Quads
You can also customize the caps on the fence posts. Most of our customers request standard flat caps or ball caps, and these accessories are also available on gate posts.
Modern Aluminum Fence Colors
Black is by far the most popular color for aluminum fences. This is because black complements most siding colors and home styles. You can kick the decorative factor up with a textured bronze aluminum fence. This unique style looks particularly stunning with stucco homes.
Aluminum vs. Chain Link Fence
Many homeowners think chain link fencing is always the way to go, but that's not the case. When you compare the two types of fencing, aluminum fence styles come out on top. Aluminum fencing offers numerous customization options that aren't available with chain link fences. An aluminum fence requires less maintenance than a chain link fence and will also increase the value of your property.
An Additional Aluminum Fence Advantage
Aside from offering classic good looks and fitting into most budgets, aluminum fences are compatible with uneven ground. Many types of fences cannot be installed on a slope, but aluminum fencing is rackable, meaning it can be adjusted to fit nearly any topography without leaving unsightly gaps at the bottom of the fence.
Contact Us
When it's time to add an aluminum fence to your property, call Myers Fencing at (859) 887-3548 to request a free quote. We offer fencing for all commercial and residential needs, including vinyl, pool, and chain link fences.
Myers Fencing is happy to serve Lexington, Nicholasville, Versailles, Georgetown, Louisville, Richmond, KY. Contact us today!